Proudly Serving Glendora and Surrounding Areas
Our team of professional plumbers is prepared to assist with a wide range of services. With extensive experience and a track record of successful repairs, installations, and maintenance, our skilled plumbers utilize state-of-the-art tools to identify and resolve issues swiftly. We prioritize efficiency and affordability, employing proven methods to guarantee the timely completion of projects while staying within your budget. For superior service and solutions, count on us, your trusted plumber in Glendora, CA.
Our team is known for their reliability, honesty, and friendly service, ensuring your plumbing needs are met. They will provide you with the best service, taking great care of your home or business plumbing needs as if it were our own. Our customers have trusted us for over four decades. You, too, can trust us to provide you with exceptional plumbing services.
At SWE, we understand that plumbing problems don't always wait for you to have sufficient funds for repairs or replacements. That's why we take pride in offering affordable services to our local customers. Our hourly rates are distinctive, ensuring you only pay for the necessary work. Our team works efficiently to deliver prompt solutions and restore your plumbing system's functionality.
Your Expert Plumber in Glendora
When it comes to finding an expert plumber locally in Glendora, CA, you want nothing short of expert-level service to address your plumbing needs. Whether it's a leaky faucet, a clogged drain, or a major pipe repair, having skilled professionals by your side is essential. We take pride in providing top-notch plumbing services that are executed with precision and expertise.
Our team of Glendora plumbers is highly experienced and knowledgeable in handling a wide range of plumbing issues. We understand the intricacies of residential and commercial plumbing systems and have the expertise to diagnose problems accurately. This enables us to offer tailored solutions that address the root cause of the issue rather than just providing temporary fixes.
For instance, imagine you're experiencing consistently low water pressure in your home or business. Our experienced professionals would carefully assess the situation, considering factors like pipe leaks, sediment buildup, or faulty fixtures. By identifying the underlying cause, we can provide an appropriate solution that restores water pressure and ensures long-term functionality.
Our professionals have years of industry experience under their belts and are well-equipped to handle even the most complex plumbing challenges.
According to a 2019 report from IBIS World, there are over 120,000 active plumbing businesses in the United States.
A study by Statista states that as of 2019, California has the highest employment level for plumbers, with an estimated 47,600 individuals actively working in this field.
Recent data from HomeAdvisor shows that the average cost for plumbing repair services in California ranges between $173 to $482.
Glendora Emergency Plumbing
We know emergencies can strike at any time, and we are always ready to respond promptly. With 24/7 availability, we tackle urgent plumbing issues with the utmost efficiency. Our rapid response and expert solutions make SWE Sewer Solutions the best choice, especially during critical situations. Our team of certified plumbers is equipped with the latest tools and technology to handle any plumbing challenge. From sewer line cleanings to complete sewer line replacements, we deliver top-tier service backed by years of experience in the industry. Our team of professionals cares most about personalized service tailored to meet each customer's unique needs. Our friendly and approachable technicians take the time to understand the issue thoroughly before devising a comprehensive solution. Our commitment to customer satisfaction has earned us loyal customers across Southern California.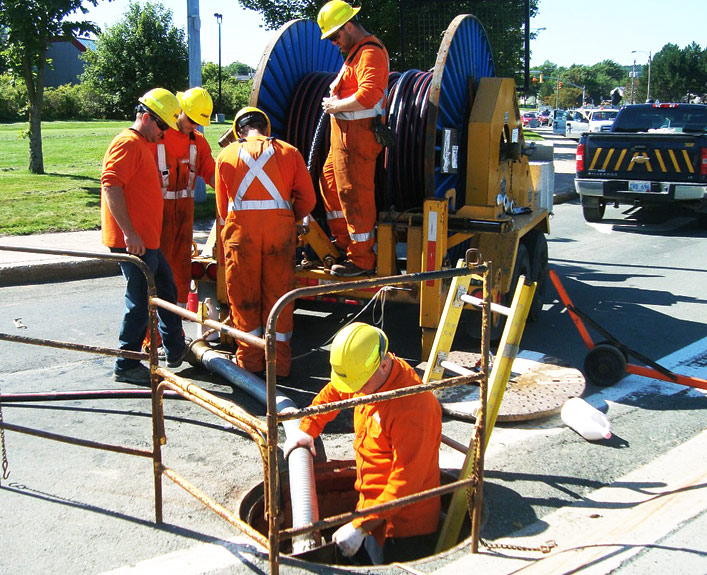 Benefits of Choosing a Family-owned Business
When selecting a plumber in Glendora, CA., for your home or business, opting for a family-owned business offers unique advantages that go beyond just receiving top-notch service. These benefits include:
Personalized Attention: Unlike larger corporations, family-owned businesses prioritize building personal customer relationships. This means you can expect individualized attention and a level of care that may not be present in larger, more impersonal companies.
Commitment to Excellence: Family-owned businesses often take great pride in their work and have a strong sense of ownership. Since the company's reputation is closely tied to the family's name, they are likelier to go the extra mile to provide exceptional service and ensure customer satisfaction.
Community Involvement: Family-owned businesses are deeply rooted in the local community. They understand the importance of supporting and giving back to the neighborhoods they serve. Choosing a family-owned plumber in Glendora, CA. means supporting local businesses and contributing to the overall well-being of your community.
Long-term Stability: Family-owned businesses tend to have a long-term perspective and a vested interest in maintaining their reputation for generations to come. This stability ensures they stand behind their work, even after completing a project. If any issues arise down the line, you can rely on us to resolve them promptly and efficiently.
By choosing a reliable local plumber in Glendora, CA., you gain high-quality plumbing services and the benefits of working with a family-owned business. Their commitment to excellence, personal attention, community involvement, and long-term stability make them an excellent choice for all your plumbing needs.
Now that we've highlighted the advantages of choosing a family-owned business for your plumbing services, let's explore why an experienced plumber in Glendora, CA., is crucial for homeowners.
Experienced Plumbing Professionals
We believe that experience is key when it comes to providing reliable plumbing services. Our team comprises seasoned professionals who have spent years honing their skills and knowledge in the field. When you choose us for your local plumbing needs, you can expect nothing less than exceptional service from our experienced professionals.
One of the advantages of working with highly experienced plumbers is their ability to identify and troubleshoot problems quickly. Their years of practical experience enable them to pinpoint issues efficiently and develop effective solutions. They have encountered diverse plumbing challenges over the years, equipping them with valuable insights into solving various issues.
For example, let's say you have a persistently recurring drain clog. Our professional plumbers would initiate our drain cleaning service to clear the immediate blockage and assess the underlying cause. They might discover that your pipes are deteriorating or collapsed and recommend options like trenchless pipe lining or bursting to address the issue comprehensively.
Additionally, our plumbers stay updated with the latest industry advancements and best practices. They continuously expand their knowledge and skills through training and professional development to ensure they deliver the highest quality of service to our Glendora customers. Think of it like having an experienced chef who knows all the tricks of the trade, ensuring everything on your dish is always prepared to perfection.
When it comes to plumbing services in Glendora, experience matters. You can trust our team of skilled professionals to handle your plumbing needs with expertise and craftsmanship. We offer budget-friendly repairs, you can trust that your plumbing needs will be handled by professionals who prioritize both quality and affordability.
Key Features of High-Quality Plumbing Repair Services
When searching for a reliable plumber in Glendora, CA., there are certain key features you should look for. These features indicate that the service provider is committed to delivering the best possible service experience for their customers:
Professionalism: A reputable plumber conducts themselves with professionalism at all times. From their appearance to their communication skills, they demonstrate respect for your home or business and ensure clear and transparent communication throughout the process.
Experience and Expertise: High-quality plumbing services come from plumbers with years of experience in the field. Their expertise allows them to quickly identify and address plumbing issues, preventing further damage or complications.
Prompt Response Times: Plumbing emergencies can happen at any time, so it's crucial to choose a plumber who offers 24/7 emergency services. A reliable plumber understands the urgency of your situation and provides prompt response times to minimize potential damage.
Up-to-date Technology: Reputable plumbers stay abreast of the latest advancements in plumbing technology and equipment. They invest in state-of-the-art tools that allow them to provide efficient and effective solutions for various plumbing problems.
Transparent Pricing: Trustworthy plumbers provide transparent pricing without hidden fees or surprises. They offer detailed estimates upfront, allowing you to make informed decisions about the services you need.
Customer Reviews and Testimonials: Checking customer reviews and testimonials is an excellent way to gauge the quality of a plumber's services. Positive feedback from satisfied customers reflects the company's commitment to excellence and customer satisfaction.
Just like selecting a reliable car mechanic ensures the longevity and reliability of your vehicle, choosing a reputable plumber in Glendora, CA. guarantees the proper functioning and efficiency of your home's plumbing system.
Considering these key features when selecting a local plumber in Glendora, CA. ensures that you receive exceptional service that meets your expectations and resolves your plumbing issues effectively.
Your Certified Plumber in Glendora
When it comes to choosing a plumber for your home or business in Glendora, CA, you want to ensure that you are entrusting the job to certified professionals. Our Certified plumbers are trained experts with the qualifications and certifications to provide high-quality plumbing services. These certifications demonstrate their knowledge and expertise in handling various plumbing issues with precision and efficiency.
By hiring certified plumbers, you can have peace of mind knowing that your plumbing problems will be resolved by professionals who are up-to-date with the latest industry standards and best practices. They have undergone rigorous training and testing to obtain their certifications, equipping them with the skills to tackle even the most complex plumbing issues.
In addition to their technical expertise, our certified plumbers understand the importance of delivering excellent customer service. They prioritize clear communication, professionalism, and respect for your property throughout the entire project. Their goal is not only to fix your plumbing problem but also to ensure your satisfaction and exceed your expectations.
For instance, let's say you're experiencing a stubborn leak that requires immediate attention. A certified plumber in Glendora, CA., would arrive promptly at your doorstep with the necessary tools and equipment. They would assess the situation accurately, diagnose the root cause of the leak, and implement effective solutions using their specialized knowledge. This guarantees you receive reliable sewer repairs that address the underlying issue rather than just temporary fixes.
Furthermore, our certified plumbers are well-versed in adhering to industry safety guidelines and regulations. We prioritize both their own safety and that of their clients while carrying out plumbing repairs or installations. This commitment to safety ensures that potential hazards are mitigated during the service process, keeping you and your property protected at all times.
Now that we understand the importance of hiring a locally certified plumber in Glendora, CA., let's explore how they can provide budget-friendly repairs.
Budget-Friendly Home or Business Plumbing Repairs
Home repairs can often be a source of financial strain, but with the help of our budget-friendly plumbers, you can minimize costs without compromising on the quality of service. Our skilled professionals understand that plumbing issues can arise unexpectedly, leaving homeowners worried about expenses. That's why we offer an affordable price and strive to find cost-effective solutions for your plumbing needs.
Our budget-friendly plumbers prioritize transparency and provide upfront estimates for our services. They avoid hidden fees or surprises, ensuring you clearly understand the costs involved before proceeding with the repairs. This transparency lets you plan your budget accordingly and make informed decisions about your plumbing repairs.
To offer cost-effectiveness, these plumbers assess your plumbing problem thoroughly to identify the most efficient solution. Rather than resorting to unnecessary repairs or replacements, they focus on targeted fixes that address the root cause while keeping costs as low as possible. This approach saves you from overspending on unnecessary parts or services and delivers long-lasting results that stand the test of time.
Let's say you're dealing with a recurring drain clog issue in your home or business. Our friendly plumber will conduct a thorough inspection to determine the underlying cause of the clog. Instead of immediately recommending an expensive pipe replacement, they might suggest hydrojetting as an effective yet affordable solution. Hydrojetting uses high-pressure water to clear out stubborn clogs, avoiding costly excavations or replacements. This way, cost-effective plumbers prioritize solutions that fit your budget while ensuring the problem is resolved effectively.
Comprehensive Plumbing Repair Services in Glendora
We offer comprehensive plumbing services to meet all your residential and commercial plumbing needs in Glendora and the surrounding areas. Our team of licensed professionals has the expertise and experience to handle a wide range of plumbing issues with precision and efficiency.
Whether you're dealing with a simple faucet leak, a clogged drain, or require extensive sewer line repairs, our skilled technicians are equipped to tackle the job effectively. We understand that every plumbing problem is unique, so we take a personalized approach to address your specific needs.
Our comprehensive plumbing services include:
Sewer Drains Cleaning: We utilize advanced techniques such as hydrojetting to remove clogs, restore proper flow, and 

spotless sewer drains

.
Sewer Line Repairs: If you're experiencing issues with your sewer line, including leaks or blockages, our experts can identify the problem using state-of-the-art camera inspections and implement efficient repairs.
Water Heater Installation and Repair: Just like your morning coffee relies on a reliable water heater, we understand how essential it is to have a functioning water heater. Whether you need installation or repair services, our team can ensure your hot water needs are met.
Pipe Leak Detection and Repair: Leaky pipes can cause significant damage if not addressed promptly. Our technicians utilize modern leak detection methods to locate hidden leaks and provide accurate repairs.
Fixture Installation and Repair: From faucets to toilets, sinks, showers, and more, we offer professional installation and repair services for all your plumbing fixtures.
Gas Line Services: We also specialize in gas line services, including installation, repair, and maintenance. Safety is our utmost priority when working with gas lines.
These are just a few examples of the comprehensive plumbing services we provide. Regardless of the size or complexity of your plumbing issue, you can rely on SWE to provide you with the best plumber in Glendora, CA., for top-notch service and unparalleled results.
Knowing which one to choose can be difficult if you have been looking for a good plumbing company in Glendora, CA. Many companies offer sewer services, but not all plumbers in Glendora have a license nor the qualifications and experience to do the job right. We proudly offer reliable plumbing services in Glendora, CA, and the surrounding areas. Our team of highly skilled, insured, and licensed plumbers ensures top-notch service every time, from minor repairs to extensive plumbing overhauls. Customer satisfaction is our top priority, making us a reliable choice for all your plumbing needs.
Professional Plumbing Services in Glendora, CA
Benefits of Hiring A Sewer Expert in Glendora, California
There are several benefits to hiring a qualified sewer expert in the Glendora area, including helping out your local community so that the dollars stay in the community. But a more important benefit is that you can be sure the job will be completed properly and always up to code. Additionally, you can trust that your qualified sewer expert will have the necessary experience and knowledge to fix any plumbing issues you may have. When hiring us as your local Glendora plumber, you can rest assured that any warranties on your equipment will remain valid for the life of the warranty. SWE is a family-owned and operated sewer service that has been in business in Glendora since 1980.
Whether it's a leaky faucet, a clogged drain, or a malfunctioning toilet, our skilled plumbers are equipped with the knowledge and tools to tackle any plumbing issue. Or if you need to replace your sewer lines, dealing with clogged drains, want to connect your home to the city sewage, or have any other residential plumbing or commercial plumbing needs? SWE Sewer Solutions Construction and Engineering is your local, family-owned, professional, and affordable plumber. 
We are available 24/7 for any emergency plumbing service you need. We know plumbing problems can sometimes not wait or be postponed, so we are always ready for your call and ready when you most need us. With one simple phone call, we can schedule an appointment for a free in-house estimate and upfront pricing, or if you prefer, send us a message. 
As a homeowner, it's natural to have questions about plumbing issues, but with a skilled plumber in Glendora by your side, you can rest assured that all your concerns will be addressed with expertise and professionalism. Don't hesitate to call us today to book an appointment with your local plumber, who will provide exceptional service and ensure your plumbing needs are promptly resolved.