If you are looking for a sewer subcontractor that can handle all of your plumbing needs, you've come to the right place! We have built a reputation on trust and integrity. We are licensed, bonded, and insured, which gives you peace of mind when we are on your job.
As a sewer subcontractor, we specialize in various tasks related to sewer systems. We utilize video camera inspections to identify any issues within the pipes, performing trenchless pipe installations for efficient and cost-effective solutions, and executing CIPP pipelining methods for seamless pipe rehabilitation. Additionally, we are skilled in sewer installation and replacement, troubleshooting unknown problems that may arise, while providing various other plumbing services. In short, a sewer subcontractor is an essential resource for maintaining and improving sewer systems.
Plumbing Sewer Subcontractor Services
The plumbing sewer subcontractor process involves hiring a specialized contractor to handle sewer-related tasks within a plumbing project. This subcontractor is responsible for installing, repairing, and maintaining sewer systems. They work under the main contractor's supervision and follow specific guidelines and regulations to ensure the smooth functioning of the sewer infrastructure. Their expertise in sewer-related tasks makes them an essential part of any plumbing project.
As a professional subcontractor, our team is skilled in areas such as laying sewer lines, connecting pipes, and installing sewer fixtures. Additionally, we are well-versed in troubleshooting and resolving any issues that may arise during the installation or maintenance process. Our attention to detail and adherence to safety protocols contribute to the overall success of the plumbing project. By hiring us as your sewer subcontractor, you can rest assured that when the job is completed, the sewer system will operate efficiently and will meet all necessary standards and regulations. Our presence on the project brings expertise and specialized knowledge that is crucial for a well-functioning plumbing system.
We offer subcontractor services for various types of projects, including residential houses, convenience stores, large commercial jobs, city and state buildings, and restaurants. As a sewer subcontractor, we specialize in providing efficient and reliable solutions for sewer-related tasks. Our team is experienced in handling projects of different scales and ensuring high-quality workmanship for our clients. 
We offer top-notch sewer subcontractor services for all your plumbing needs. Our team of skilled professionals is experienced in handling sewer projects of any scale, ensuring efficient and reliable solutions. Trust our expertise to deliver exceptional results and meet your plumbing requirements seamlessly.
• A License – We can pull any sewer permit in the City of LA, and any City or County in California for underground repairs
• Sewer/Underground Liability Insurance – Workers Comp
• Professional Team – OSHA Certified, First Aid, Traffic and Trench Safety Certified
• State-of-the-art equipment – Trenchless Pipelining, Hydro-jetting, Sewer Cameras, Robotic Reinstatement Cutter and more
• Offer Longest Warranty's in the business
General Contractors
SWE Sewer Solutions will meet and exceed all of your plumbing subcontracting expectations.
We specialize in the installation, repair, and replacement of sewer lines for businesses and homeowners.
This is our passion, and we've been doing it for over 40 years.
We offer FREE ESTIMATES and SECOND OPINIONS.
Camera inspections and 24-hour Emergency Service are also available.
Let us expand the services you can provide to your customers.
We are giving you the peace of mind of knowing that the job will be done right the first time.
Here are some of the different types of sewer subcontracting work we can do.
Convenience stores
Large Commercial Jobs
City and State Buildings
Restaurants
SERVICES MOST CONTRACTORS USE: 
Video Camera inspection and pipe location
Trenchless Pipe installation and enlarging pipe size
CIPP Pipelining
Troubleshooting unknown problems
General Plumbing Services
A general contractor typically requires various on-site plumbing services to meet their project needs. These services may include installing, repairing, or modifying plumbing systems, ensuring proper water supply and drainage, and adhering to building codes and regulations. Additionally, general contractors often collaborate with sewer subcontractors to address specific sewer-related requirements, such as sewer line installation or maintenance. 
Furthermore, general contractors may also oversee the installation of fixtures and appliances that require plumbing connections, such as sinks, toilets, and water heaters. They must coordinate with suppliers to ensure timely delivery of plumbing materials and equipment. In addition, general contractors are responsible for managing any plumbing-related issues that may arise during the construction process, troubleshooting problems, and finding effective solutions to minimize delays. Overall, the expertise of a general contractor in coordinating plumbing services is crucial for the successful completion of construction projects.
IF YOU ARE A CONTRACTOR WHO IS TURNING DOWN WORK BECAUSE:
YOU DO NOT HAVE SPECIALIZED EQUIPMENT.
YOU HAVE HAD ISSUES WITH OTHER SUBCONTRACTORS IN THE PAST.
CALL US NOW!
WE LOOK FORWARD TO BUILDING THE FOUNDATION OF A LONG-LASTING PARTNERSHIP.
WE ARE STRIVING TO BECOME THE PREMIER SEWER SUBCONTRACTOR IN THE GREATER LOS ANGELES AREA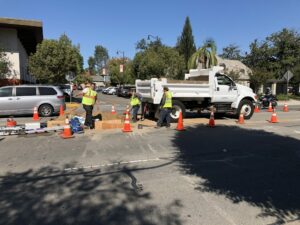 Call for a Free Estimate and Get a Second Opinion!
- Residential and Commercial Services Available -