Our sewer camera inspection service is the quickest way to find the problem and to prevent any future issues or emergencies. A sewer line camera inspection and repair will save you time and money. 
SWE Sewer Solutions will quickly detect any current issues or potential future problems that, if addressed quickly, can save you money. We offer services for both commercial and residential properties.
Why use our sewer camera inspection service?
We utilize a special video camera for our sewer line inspections. This is one of the most popular ways to quickly find a clog. It's a must-have tool for any plumbing business. These special video cameras are rugged and waterproof in their design, allowing plumbing professionals to conduct a visual inspection of sewer lines and drains. These cameras are used in underground sewer line pipes, including those pipes under cement and under the foundation of the home. There are many reasons why we use video camera inspection technologies. One is to determine the best options for unclogging, repairing, or even replacing your pipes. Another more important reason is to find to most cost effective solution for you.
When should you do a sewer camera inspection?
When sewer pipes get clogged, the homeowner's first instinct is usually to call a plumber. However, before calling a plumber, it may be worth your time to check out what's going on inside of your sewer lines by using a specially designed video camera to do a sewer pipe camera inspection.
You can either purchase or rent a sewer camera. To rent one, they typically cost between $200 and $1,000 per day. To purchase a sewer camera, you are looking at spending between several hundred to several thousand dollars. Then you simply need to learn how to use the camera properly.
Sewer cameras are not very expensive.  In fact, they can sometimes be rented from your local hardware store or plumbing supply shop. sewer cameras are inserted into the sewer line through a clean-out opening. The sewer camera is then attached to a monitor so that the homeowner can see what is going on inside the sewer line. 
Sewer cameras are small, handheld devices that send a video feed from the inside of the pipe to a monitor. This allows you to see exactly what is going on inside the sewer pipes and makes it easy to identify any current and/or potential future problems.
If you're thinking about having a sewer drain camera inspection done, here are a few things you should know:
– Sewer camera inspections are typically not very expensive, and in some cases, the cost can be expensed in your taxes.
– Most sewer camera inspections can be completed in a matter of hours.
– A sewer camera inspection is a great way to spot problems before they become a bigger issue.
Sewer cameras are an important tool that plumbers use daily to get their day-to-day jobs completed more quickly. After running a sewer inspection, our professional technician will usually give the homeowners several options for doing the repairs, depending on the severity of the problem.
Click here to learn more about pipeline video inspection.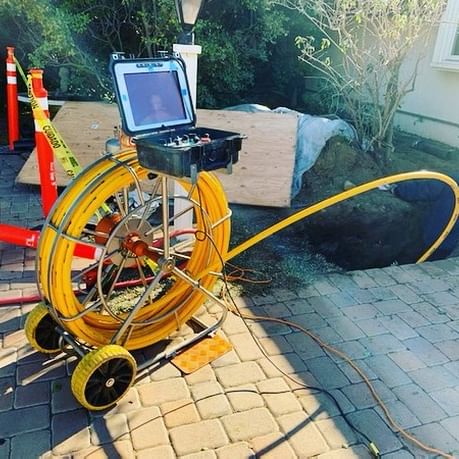 4 Ways to Conduct a Sewer Camera Inspection:
Sewer camera inspections are a great way for California homeowners to inspect their sewer lines for any potential problems. There are a few different ways to conduct sewer camera inspections, and each has its own advantages and disadvantages.
The first way to do a sewer camera inspection is to hire a professional plumbing company. This is the most comprehensive inspection. You can expect a professional plumbing company to have the latest technology and knowledge to complete a sewer camera inspection. They are likely to better understand the local area sewer system from your house or business to the city streets and have the right inspection camera for your specific situation.
The second way to do a sewer camera inspection is to buy one. This can be a more expensive option, and it also provides the least comprehensive inspection. Home and business owners typically do not have a good understanding of the area's sewer system or how to use the video camera.
The third way to do a sewer camera inspection is to rent one. This option also provides the least comprehensive inspection for the same reasons listed above. However, this is less costly as you can rent the equipment on a daily basis.
The fourth way to do a sewer camera inspection is to borrow one from a friend or neighbor. This is likely the least costly option, as you won't need to pay for the equipment or the service. However, again, this option provides the least comprehensive inspection for the same reasons listed above.
No matter which option you choose to do a sewer camera inspection, it's important to remember that a sewer camera inspection is not a substitute for hiring a professional. A sewer camera inspection can only identify problems that are visible in the sewer camera footage. If there is a problem with your sewer line that is not visible on the sewer camera footage, a sewer camera inspection will not be able to identify the exact problem. In order to find and fix all of the problems with your sewer lines, you need to hire SWE Sewer Solutions with over 40 years in the business, we know what to do next.
Providing Sewer Camera Inspections Services
If you have any questions about drain camera inspections or would like to schedule one for your home, please give us a call. Let us determine what your plumbing problems are, with a sewer line inspection. We visit homes in your area daily. In fact, it's likely we have serviced your neighbor's drain lines and sewers. We provide emergency service 24/7 and can find any obstructions or clogs with a sewer line video inspection.
SWE Sewer Solutions provides sewer camera inspection services for both homeowners and businesses. Let us handle your sewer line concerns. There is no guesswork with our inspection cameras, so let us find the obstructions and the damage to solve your plumbing problem. We would be happy to help!
Call for a Free Estimate and Get a Second Opinion!
- Residential and Commercial Services Available -