Sewer Line Repair In San Dimas, CA
Are you looking for an affordable way to manage your plumbing issues? SWE Sewer Solutions are here to help you out. We have it all, no matter which service you are looking for – trenchless sewer repair, sewer replacement, pipe lining, or anything else.
What Is Sewer Line Repair?
A sewer line repair occurs when issues crop up with your sewer line. There are currently at least 500,000 miles of private sewers in the United States and another 800,000 miles of public sewers. So, it is only natural that there will be a need for some kind of infrastructure to support these lines.
The lines are also constantly exposed to a multitude of elements that include water, soil, and just general corrosion. If there is a problem on a public sewer line then the local government is responsible for it, but if it's on private property then it is your responsibility to ensure that the problem is dealt with or it might escalate.
It is important that you call in specialists at this time as they will be able to assess the damage as well as provide you with the right solutions to take care of the problem.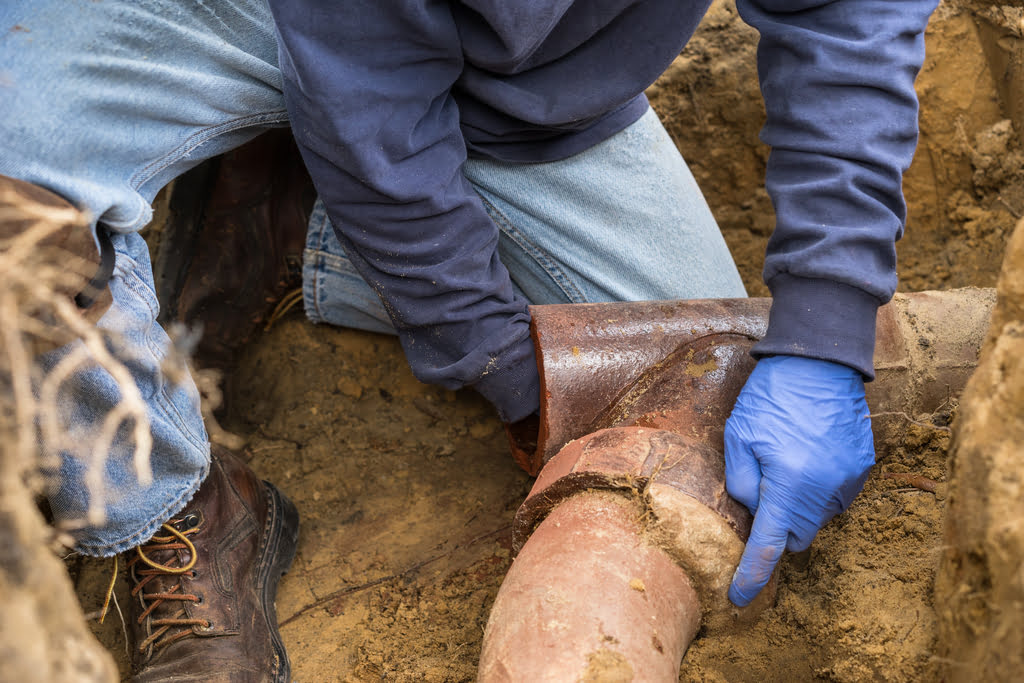 Causes Of Sewer Line Damage
There is no singular reason why a sewer line gets damaged. There are plenty of external and internal factors that play a part in damaging a sewer line. As one of the most important structures in the plumbing infrastructure of your house or building, you must act fast. Some of the most common reasons behind sewer line damage include;
Clogs are an internal cause of sewer line damage. So, do not treat your toilet like a trash can.
The infiltration of tree roots in the sewer line can cause cracks and in extreme cases even crush or completely take over sewer lines.
Over a period of time, general corrosion and build-up can cause leaks and blockages in the pipe.
Oil and grease can harden when the temperature drops causing blockages in the pipe.
These small creatures are a menace to sewer pipes. They make small cracks bigger, loosen joints, and use pipes as their home.
The use of poor-quality material and loosening sewer joints can cause issues with the sewer line.
It is only once an expert inspects your sewer that the cause of the damage can be determined.
Common Signs Of Sewer Line Damage
More often than not people miss out on some common signs of sewer line damage. Here are the most common ones that you should be on a lookout for
Quick Sewer Line Repair In San Dimas, CA
Need a quick and affordable fix for your damaged plumbing?
SWE Sewer Solutions Service Area
SWE Sewer Solutions are your go-to local bonded sewer contractors in San Dimas, CA. We offer services including trenchless sewers, sewer line repair and replacement, sewer lining, pipe Lining, and others. 
Currently, we serve the following areas in California: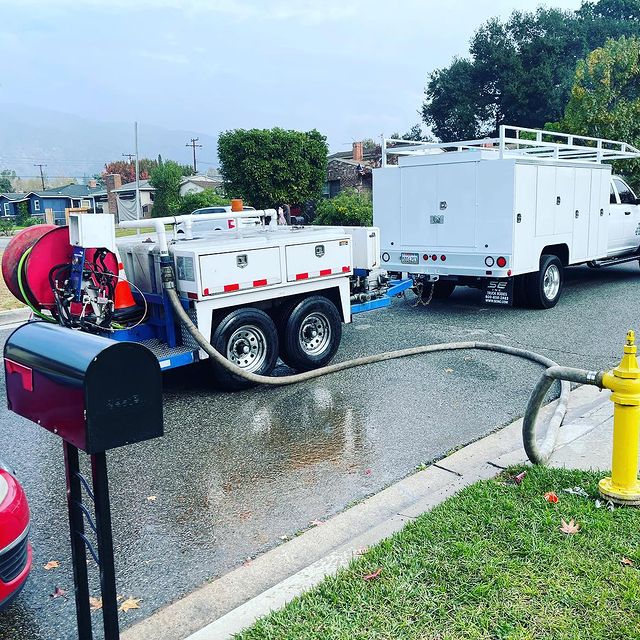 In this method, you skip the whole hassle of excavation and damage that usually occurs when you carry out a sewer repair. Trenchless Pipe Bursting entails installing a full-size or sometimes a bigger pipe along the path of the old damaged one. This is done by running a steel cable through the pipe with a bullet-shaped bursting head attached to the other end. This head is slightly larger, and so it breaks the old pipe making way for the new pipe which is attached to the cable ensuring that the process is completed in one motion. 
In the process of trenchless pipe lining, the damaged pipe is repaired without any excavation. The process begins with the cleaning of the inside of the pipe with mechanical cutters that ensure that the CIPP liner adheres to the pipe. Once the cleaning is complete the technicians saturate a felt liner with two-part epoxy. The outside is scored and then the liner is pulled through. The rubber bladder expands and the epoxy liner is allowed to cure so that it adheres to the pipe. 
Our team of experts is always on-hand to help out with the installation of a sewer line. Whether you want to convert your old septic tank into a line or are constructing a new house. Both can be handled with ease by our specialists. 
Aren't sure what the problem is? Our sewer camera inspection service is one of the quickest ways to find the problem and solve it before it becomes an issue. Our rugged and waterproof cameras carry out a thorough inspection of your drains to identify both existing problems as well as potential future ones. 
We are the leading providers of sewer cleaning services in San Dimas, CA. Our services range to all kinds of drains- kitchen, bathroom
-you
name it, we'll help you out.  We use top-of-the-line technology to ensure that we clean your drains and lines thoroughly. 
We provide a hydro-jetting service that utilizes high-pressure water to clean out your drain. This can help move heavy-duty clogs like roots and heavy rocks and give way to a clean drain.
There are some cases in which one needs to take a more aggressive approach as there might be a major blockage or a failed pipeline causing issues, this is when we deploy our robotic cutter. When nothing else works, robotic cutting is the answer. 
We are a proud third-generation family-owned and operated company that ensures every customer gets the best possible service. Our staff comprises experts who have been doing this for a long time. 
Our technicians take extra care to adhere to the Disease Control and Prevention (CDC) guidelines to guarantee your safety at every job.
We take extra care of our team by equipping them with the best possible technology and continuing their training.
We offer flat-rate pricing, so you will not experience any surprise charges at the time of billing. 
Our 27+ years of experience are visible in the 30K projects we have completed over the years.
We use the best, minimally invasive technology to complete the work.