Sewer Line Repair In Mayflower, CA
Looking for affordable plumbing and sewer services in Mayflower, CA? Look no further! We employ the most experienced and well-trained professionals at SWE Sewer Solutions to care for your home's plumbing. Book an appointment today, and we'll send over our experts for any sewer service.
What Is Sewer Line Repair?
Sewer line repair entails using state-of-the-art equipment to repair any damages to your drainage and plumbing system.
Any damage to these pathways can be detrimental to the hygiene and sanitation of your house. Therefore, taking quick action is the only way to ensure that these pipes do not turn into breeding grounds for diseases.
If you're currently facing any issues with your sewer lines and plumbing, our experts will look it over and suggest the best possible course of action.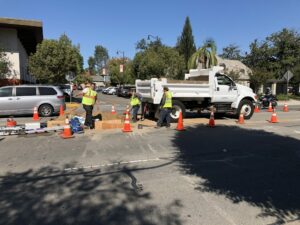 Causes Of Sewer Line Damage
Sewer line damage can be the result of multiple things. However, in most cases, you must be aware of five major causes of this damage.
Roots of trees sometimes grow towards your sewer lines, intruding into the pipes and leading to cracks.
Waste like tissues, feminine hygiene products, or other disintegrating material can clog your drains.
Rodents can enter your pipes, make them breeding grounds, and aggravate existing damage.
General exposure to air, water, soil, or depositions like magnesium or calcium can corrode the pipe.
Grease and oil solidify when the temperature drops. Pouring them into drains can lead to clogs and blockages.
Common Signs Of Sewer Line Damage
You can stop your sewer line damage from getting too severe as long as you know the common signs. Here are some signs that indicate that you might require professional help.
Quick Sewer Line Repair In Mayflower, CA
Need a quick and affordable fix for your damaged plumbing?
SWE Sewer Solutions Service Area
SWE Sewer Solutions is the best plumbing and sewer solutions company in Mayflower, CA. Currently, we serve Southern California cities and provide multiple plumbing services. These include sewer line repair, replacement, cleaning, and more.
Currently, we serve the following areas,
We extend the following services in the mentioned areas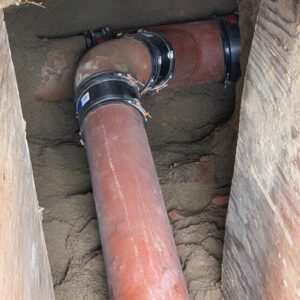 Trenchless pipe bursting entails the replacement of an old damaged pipe with a new one without requiring any unnecessary trench digging or damage. Our experts insert an expander head inside the old pipe that breaks it apart across the circumference while the new pipe is pulled in and set into place.
Trenchless pipe lining entails the insertion of a felt liner filled with a two-part epoxy into the old pipe. The epoxy is inverted (inside-out) and allowed to adhere to the interior of the old pipe. Once the resin liner hardens and cures, closing off any cracks or holes.
Our team of experts also takes on the task of installing new sewer lines in new or old homes, changing septic tanks with sewer lines, and providing connectivity with the city's sewer system. 
Sewer cameras are rugged and waterproof, so they can be inserted into pipes to provide visual proof of the damage. These are used before every other process to evaluate the degree of damage or blockage you're dealing with.
SWE Sewer Solutions is a local family-owned business that is run by third-generation plumbers. We're known throughout Southern California for our high-quality solutions and timely service.
We've been in the business for almost three decades and know all the ins and outs of the industry.
Our technicians are licensed service professionals with years of experience to provide you with the best solutions.
All our employees comply with the safety guidelines and go through rigorous training for the same.
State-of-the-art Technology​
We only employ the best and most advanced technology in the plumbing industry.
We only provide flare-rate prices without any hidden costs or extra expenses.