Sewer Line Repair In Mayflower, CA
Looking for affordable plumbing and sewer services in Mayflower, CA? Look no further! We employ the most experienced and well-trained professionals at SWE Sewer Solutions to care for your home's plumbing. Book an appointment today, and we'll send over our experts for any sewer service.
What Is Sewer Line Repair?
Sewer line repair entails using state-of-the-art equipment to repair any damages to your drainage and plumbing system.
Any damage to these pathways can be detrimental to the hygiene and sanitation of your house. Therefore, taking quick action is the only way to ensure that these pipes do not turn into breeding grounds for diseases.
If you're currently facing any issues with your sewer lines and plumbing, our experts will look it over and suggest the best possible course of action.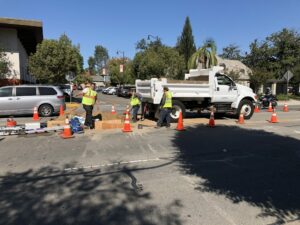 Causes Of Sewer Line Damage
Sewer line damage can be the result of multiple things. However, in most cases, you must be aware of five major causes of this damage.
Roots of trees sometimes grow towards your sewer lines, intruding into the pipes and leading to cracks.
Waste like tissues, feminine hygiene products, or other disintegrating material can clog your drains.
Rodents can enter your pipes, make them breeding grounds, and aggravate existing damage.
General exposure to air, water, soil, or depositions like magnesium or calcium can corrode the pipe.
Grease and oil solidify when the temperature drops. Pouring them into drains can lead to clogs and blockages.
Common Signs Of Sewer Line Damage
You can stop your sewer line damage from getting too severe as long as you know the common signs. Here are some signs that indicate that you might require professional help.