Sewer Line Repair In Claremont, CA
At SWE Sewer Solutions, we employ licensed and trained staff while utilizing state-of-the-art technology in every service that we provide. As leading bonded sewer contractors in Claremont, we provide our customers with services like trenchless sewer repair or replacement, sewer lining, pipe lining, camera inspection, and more.
What Is Sewer Line Repair?
Sewer line repair is the process of utilizing technology along with manpower to repair damaged sewer pipes used to carry wastewater and fecal waste from your household to the city's treatment plants.
These sewer lines play a crucial part in maintaining the overall sanitation and hygiene of the house. Even the slightest damage to this pathway can lead to leaks, molds on the walls, sewage smell, rodent infestations, and much more.
Our team only invests in cutting-edge technology to reduce the labor requirements as well as make the entire process much more precise, swift, and without damage.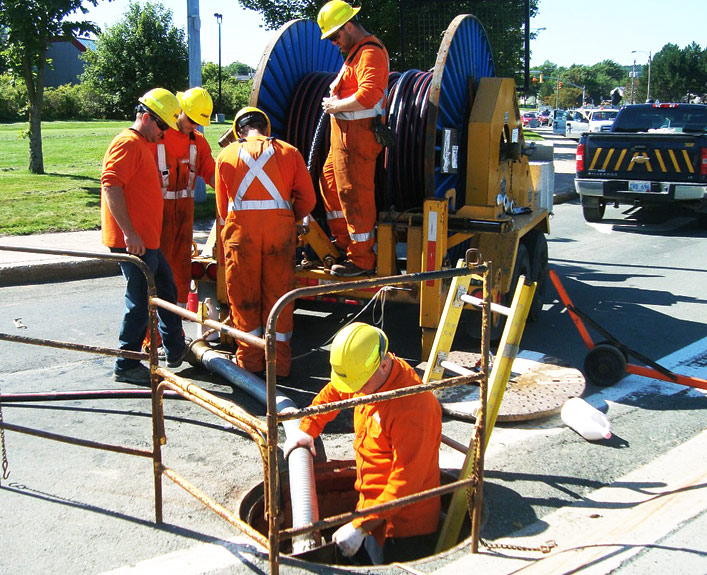 Causes Of Sewer Line Damage
More often than not, it can be very difficult to realize the source of damage to your sewer line. There can be multiple factors that have an impact on the structure of the pipe, both internal and external.
Here are some of the common causes:
Roots might grow around the pipe, crush it or penetrate it, leading to holes, cracks, or even excessive damage.
General corrosion or sediment build-up are common causes of damage to old sewer lines.
Flushing down physical waste or pouring hardened substances that cannot disintegrate into the drain can lead to clogs.
When burrowing rodents enter sewer lines they loosen joints, turn small holes into large cracks, and can even nestle in the pipes. This not only damages the line but also makes your house vulnerable to rodent infestations.
Grease and oil tend to harden when the temperature falls and often get accumulated in sewer pipes leading to clogs. Instead of drains, oil should be solidified, put in a closed container, and disposed of in the trash can.
Drainage systems are intricate, which is why it is important that you call in an expert to check if your system runs smoothly.
Common Signs Of Sewer Line Damage
Some of the most common signs of a damaged sewer line include:
All of these are signs of sewer line damage in your house. However, to inspect the source of the damage, you require expert assistance.
Quick Sewer Line Repair In Claremont, CA
Need a quick and affordable fix for your damaged plumbing?
SWE Sewer Solutions Service Area
SWE Sewer Solutions are reputed local bonded sewer contractors in Claremont, providing services all across Southern California. We've successfully completed 30k projects, and served over 450 communities in the 27 years that we've been in business. We provide multiple services across CA, including sewer line repair, trenchless pipe burtsting, sewer pipe lining and more.
Currently, we provide our services in the following cities:
We extend the following services in the mentioned areas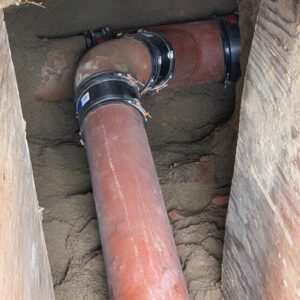 Trenchless pipe bursting is the process used when the old sewer pipe is unrepairable and therefore has to be replaced. To get started, the specialist inserts a cone-shaped bit through the old pipe that breaks the pipe across its circumference. At the same time, this is replaced by a new pipe. This approach saves you from any unnecessary digging of trenches or damage to any structures.
Trenchless pipe lining is a less intrusive method most often used when pipes require repairing or replacement. The method includes the insertion of a felt tube that is filled with two-part epoxy. Once this epoxy is cured and hardened the felt liner and rubber bladder can be removed. No water can seep in between the new CIPP liner and the old pipe, therefore fixing all the cracks and leaks.
In the case of the complete installation of a new sewer line for your new or old house or the conversion of a septic tank into a sewer line, our team has got you covered.
Our sewer camera inspection services work best in inspecting the source of damage in a sewer line and preventing the damage from getting worse. For the process, our team inserts a rugged and waterproof camera down the old line to find any clogs, holes, cracks, or infestations. Following this, we choose the preferred course of action.
We employ the industry's best-trained professionals and utilize cutting-edge technology to get the best results. Currently, we provide two different methods of cleaning sewer lines depending on how hard it is to get rid of the waste clogging the pipes.
The initial approach involves the use of hydro-jets. These use high-pressure water to break down waste and flush it down the drain without hassle. However, if this does not work, we employ a more aggressive approach to clean the pipes.
This second approach utilizes robotic cutters to cut and remove any hard obstructions, including metals and concrete. This method can also be used to completely remove damaged pipes.
A family-owned company run by third-generation plumbers, SWE Sewer Solutions is a leading bonded sewer contractor that provides services all around Southern California.
Our business has been a leading player for approximately 3 decades, being led by generations of skillful plumbers.
All our employees go through rigorous training to provide you with the best solutions for your sewer requirements.
We believe in transparency with our customers, so you never have to worry about any hidden or surprise costs after the job is completed.
We employ state-of-the-art technology to provide our customers with the best services possible.